HDSE submersible slurry pump is hydraulic machinery, the motor and the pump of which are coaxially working submerged in medium .
The wetted parts of the pump are made of high chromium wearable alloy , so the pump has good wear resistance and large flowing passage.
It is applicable for conveying medium such as sludge, ore slurry, coal slurry, sand stones containing big solid particles.
Overview
Zidong hydraulic submersible dredge pumps are suitable for 120, 150, 220, 240, 300, 330, 360 and other small, medium and large series of excavators. Besides, they are specialized for those circumstances that are difficulty to dig, such as much more water and watery sludge and sand. Remove the bucket and connect to the hydraulic mortar pump, concentration of extraction with high efficient and density could be achieved. The work efficiency improves greatly with the matching hydraulic slurry pump and long-distance transportation is also realized. In addition, it could be equipped with hydraulic station and applies to the harsh environment. Hence, several difficulty conditions could be dealt with such as excavators digging ineffectively, long-distance transportation of mud and mortar, lack of electricity supply and frequent switching conditions. In conclude, it can supply to various conditions.
Model Meaning:
HDSE200-15:  HDSE: High Efficient Designed Hydraulic Pump
200: Pump flow in m3/h
15: Pump head in m
Serial No.
Model
Flow m3/h
Lift(m)
Matching Agitator
Stirrer Torque
Excavator Tonnage
1
HDSE200-15
200
15
5.5KW
1556
10T-20T
2
HDSE150-30
150
30
3
HDSE300-20
300
20
4
HDSE400-10
400
10
7.5KW
1946
20T-30T
5
HDSE500-15
500
15
6
HDSE250-35
250
35
7
HDSE300-30
300
30
15KW
2433
30T-40T
8
HDSE400-30
400
30
9
HDSE400-40
400
40
Features
• The bottom of the pump has a mixing device, and it also could be equipped with bilateral or multilateral agitator additionally in order to prevent large pieces of fixed material clogging the pump and fully making the solid and liquid mixed, thus it is more convenient to handle.
• This slurry pump can handle the solid material with maximum particle up to 50mm, extraction concentration of solid-liquid could be up to 70% or more.
• The device is mainly installed in the excavator, and powered by the excavator hydraulic station so that a free transition could be provided. Be sides, with the power source of the diesel engine, the problem of inconvenience of electricity during construction in remote areas can be solved.
• Wetted parts: the pump casing, impeller, guard, mixing impeller are all made of high chrome alloy. Other materials can be customized.
• With the unique seal device, it could avoid frequent changing machine seal and improves work efficiency.
Note: Due to different working conditions, the pump output may also change with the medium, operation, transportation distance and other factors.
Structure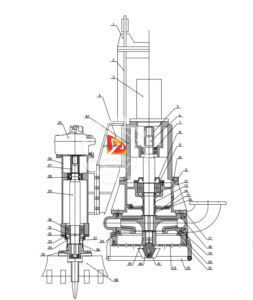 | | | | | | |
| --- | --- | --- | --- | --- | --- |
| No 20 | Water suction plate | high-chromium alloy | No 40 | Stir impeller | high-chromium alloy |
| No 19 | Impeller | high-chromium alloy | No 39 | Hub | high-chromium alloy |
| No 18 | Inner plate | high-chromium alloy | No 6 | Pump shaft | 2Cr13 |
| No 17 | Pump shell | high-chromium alloy | No 29 | Side cutter shaft | 2Cr13 |
| No 23 | Sand suction plate | Q235 | No 1 | Excavator horse puller | Q235A-F |
Application
• Dredging and desalting in the river, lake and port.
• Extracting sand, gravel etc., harbor reclamation project
• Draining liquid with solid materials, such as iron, tailings and slag etc.
• Extracting slag, forging slag, sludge and other industrial waste
• Pump sand and gold mining etc.