| | | | |
| --- | --- | --- | --- |
| Flow | 10~2050 M3/hour | Head | 5~52 Meters |
| Material | High Chrome Alloy | Size | 3~10 Inch |
| Color | As You Want | | |
Overview
Zidong 110kw Submersible Electric Pump with High Pressure water jet ring is designed for submersible pump with loose sand solids or thick slurry need to be fluidized your solids to pump, in addition to the bottom agitator, a water jet ring can be added to the pump stand to add high pressure water near the submersible pump suction to further suspend settled out solids by the water jetting action of the nozzles.
Size: 50-400mm
Capacity: 10-2000m3/h
Head: 8-150m
Max. Particles: 60mm
Max. Concentration: 70%
Max. Working Depth: ≤ 150m
Water Jet Ring: High pressure
Sealing Arrangement: Double mechanical seal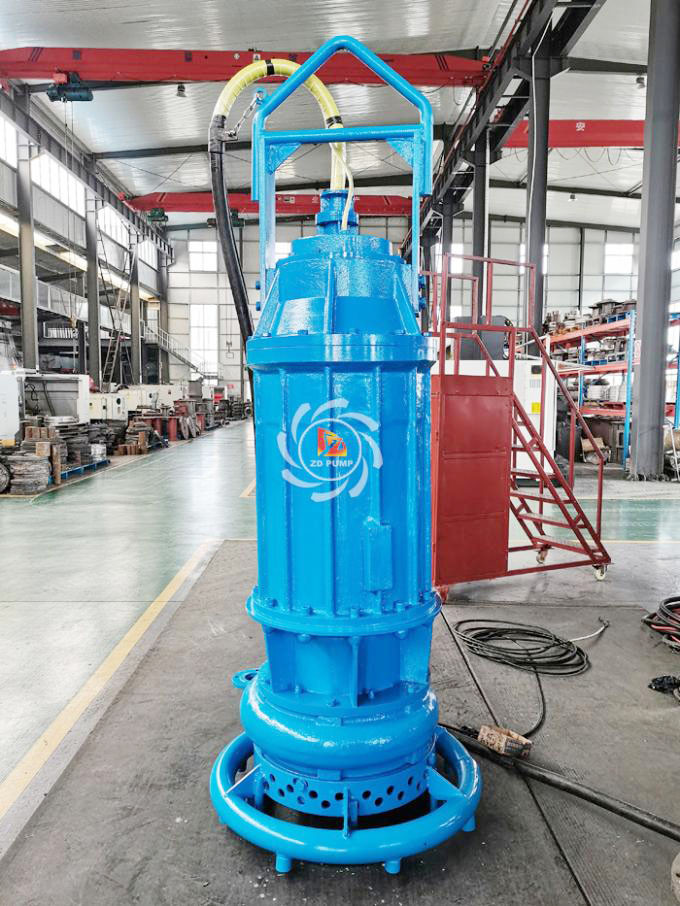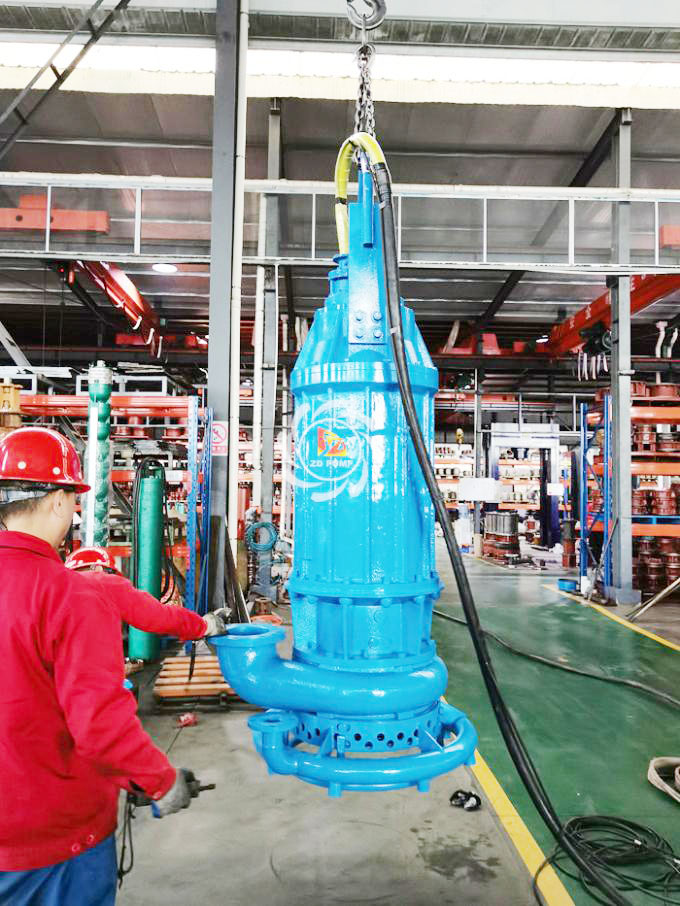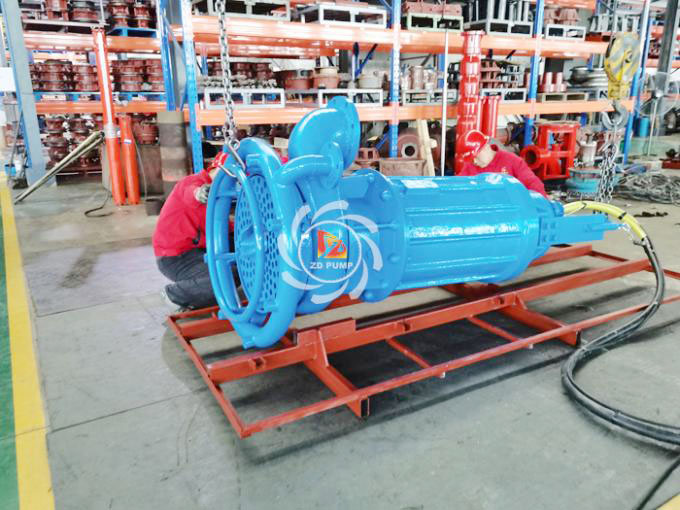 The product is designed and manufactured by domestic and oversea advanced technologies. Besides the main impeller, the bottom of the pump is additionally provided with a set of agitation impeller which can spray the deposited sludge into turbulent flow.
The unique mechanical seal device can effectively balance the pressure inside and outside the oil chamber, so as to protect the reliability of the mechanical seal to the maximum extent.
The motor adopts various protective measures such as overheat protection, water inlet detecting protection, and can operate safely for a long term in harsh working condition.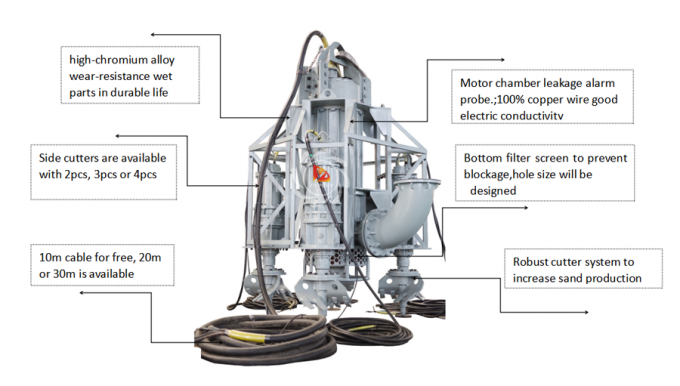 Advanced Features
• Electric Motors are all class H insulated and have a minimum 1.25 service factor.
• Submersible electric pumps are equipped with a unique lip seal system to prevent material from penetrating the seal.
• High quality abrasion resistance materials ensure long life of all components.
• Temperature sensor, embedded in the electric motor, and moisture sensor, in the oil chamber, are available options to protect the pump in the most demanding application.
• Adjustable high Chrome suction side wear plate maintains maximum performance for extended periods by a simple adjustment of the gap between the wear plate and the impeller.
• Replaceable wear parts: casings, impellers, wear plates all can be replaced independently.
• Lube Oil Inspection Ports: a wide angle port outside the submersible Electric pump ensures easy inspection of shaft seal oil levels as well as providing easy access for oil replacement.
• The excavating action is created by the high Chrome agitator blades that lift settled sediments which then get sucked into the submersible slurry pump, creating a continuous flow of concentrated slurry.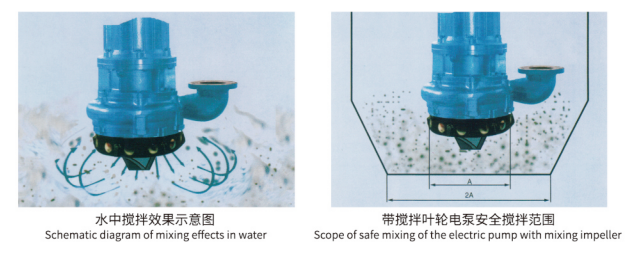 Structure Drawing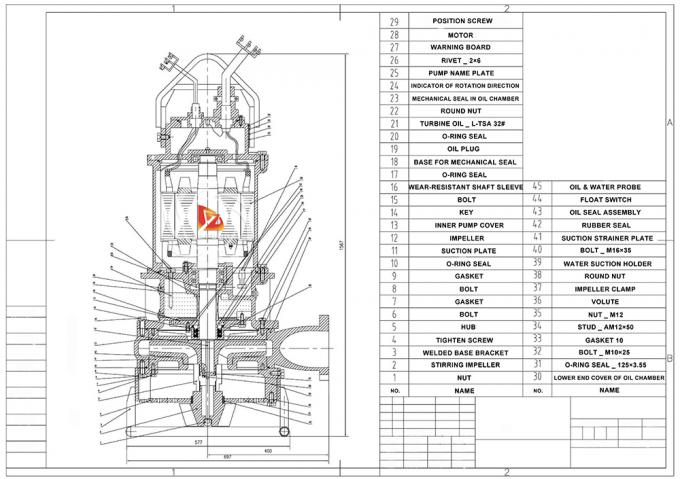 Specification
Model Meaning
ZJQ200-15-22
ZJQ: Zidong Brand Submersible Slurry Pump
200: Pump flow in m3/h
15: Pump head in m
22: Pump power in kw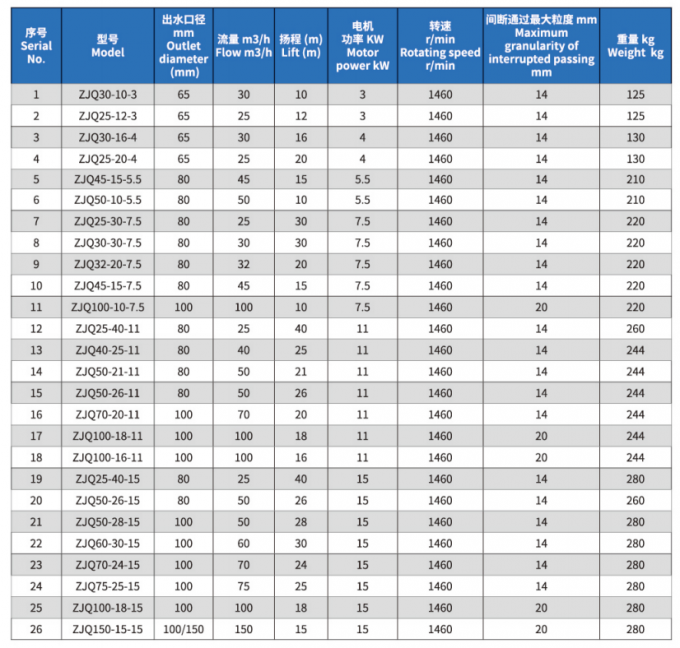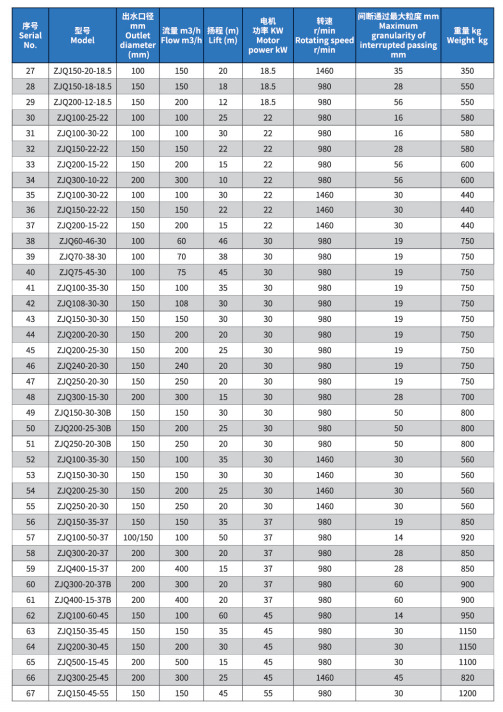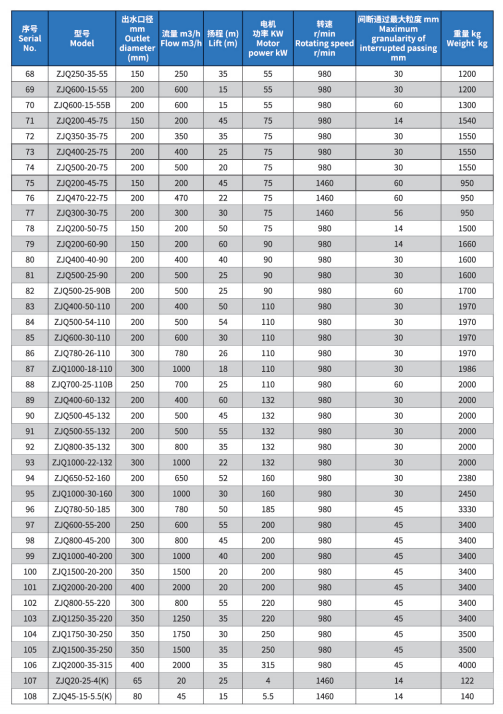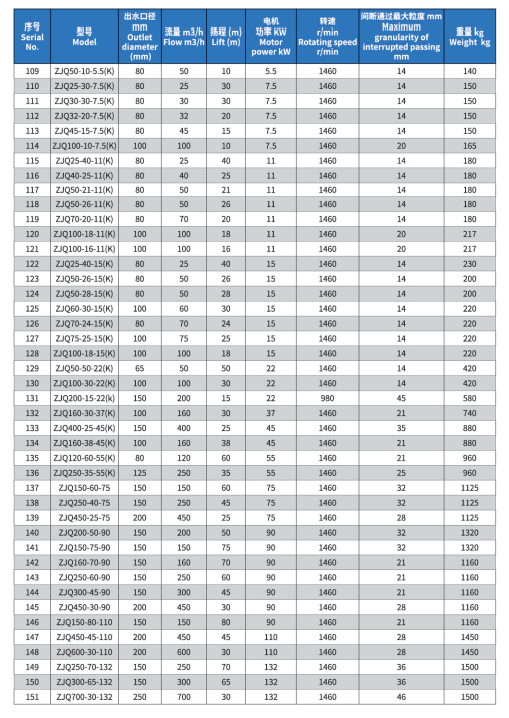 Application
• Rivers, lakes, sea, reservoirs, pumping sand.
• Rivers, lakes, reservoirs, pumping port dredging silt.
• Pumping sand beneficiation: Select iron sand pumping, pumping sand gold, rare earths.
• Sewage treatment plant settling ponds cleanup.
• Municipal pipelines, storm water pumping station, hydroelectric sediment cleanup.
• Construction (sinking bridge construction, etc.) discharge of sediment, mud.
• Steel plant blast furnace slag, slag, pumping iron oxide delivery.
• Concentrator tailings, slag, slurry transportation.
• Coal cinder, coal, coal slurry cleanup.
• Power plant fly ash, coal, coal slurry transportation.
• To learn all kinds of diamond sand, quartz sand, slag solid particles.