| | | | |
| --- | --- | --- | --- |
| Size (discharge) | 2″ – 16″ | Capacity | 10-2400 M3/h |
| Head | 10m-65 M | Material | High Chrome Alloy Wear Resistant Alloy |
NSQ Series Dydraulic Driving Sand Pump Features:
1. Hydraulic system design to meet bigger depth
2. Wet parts in strong wear resisting alloy material
3. Water jet system and extra stiring adding to increase sand production
Overview
NSQ submersible slurry pump is hydraulic machinery, the motor and the pump of which are coaxially working submerged in medium. The wetted parts of the pump are made of high chromium wearable alloy, so the pump has good wear resistance and large flowing passage. It is applicable for conveying medium such as sludge, ore slurry, coal slurry, sandstones containing big solid particles.
The product is designed and manufactured by domestic and oversea advanced technologies. Besides the main impeller, the bottom of the pump is additionally provided with a set of agitation impeller which can spray the deposited sludge into turbulent flow,. The unique mechnical seal device can effectively balance the pressure inside and outside the oil chamber, so as to protect the reliability of the mechanical seal to the maximum extent. The motor adopts various protective measures such as overheat protection, water inlet detecting protection, and can operate safely for a long term in harsh working condition.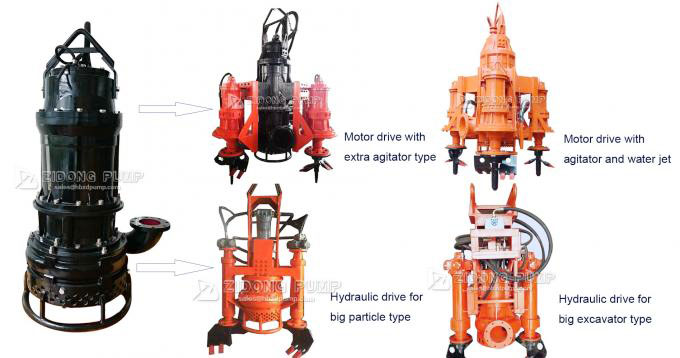 Features

1. Double- impeller structure , which has a main impeller together with a mixing impeller.
2. Dry pump motor . Motor mechanical seal protection, effective to prevent the pressurized water and impurities from entering the motor cavity .
3. Wet parts are made by wear- resistant material,which has high wear resistance, corrosion resistance.
4. No suction limitation with high efficiency slag suction dredging more thoroughly.
5. No auxiliary pumps with investment more affordable.
6. No mixing or spraying hit with auxiliary devices easier to use.
7. Motors submerged , without building complex ground protection and fixtures, will manage more easily.
8. Stirring impeller direct contact with the deposition surface ,dive depth by controlling the concentration.
9. Triple protection: oil chamber flooding detection alarm, motor compartment flooding detection alarm.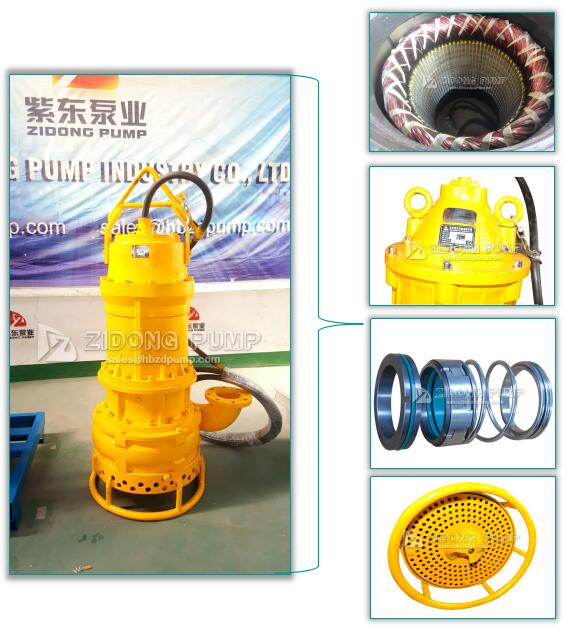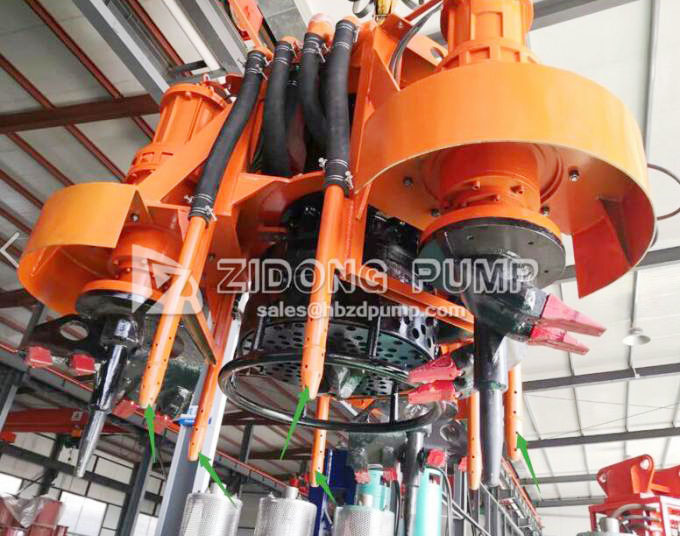 •  IP 68 Submersible motor with bronze coil
•  Special design double side mechnical seal
•  Alloy stir in bottom to increase sand density
•  Bottom filter to protect big stones entering into pump
•  Water jet and Extra stirs can be added
Structure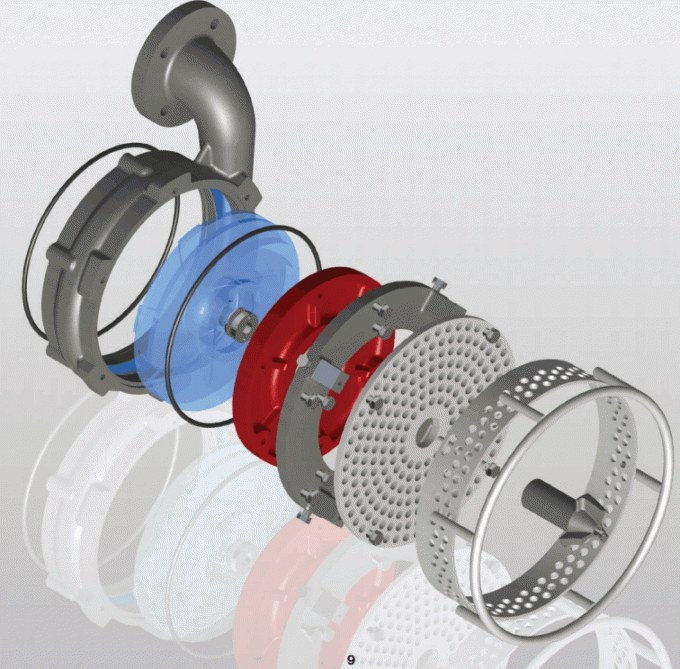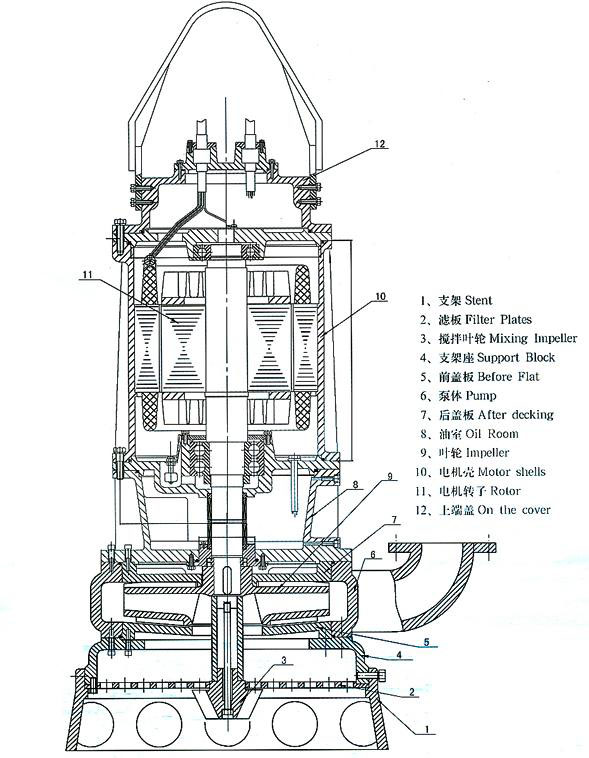 NSQ Performance Curve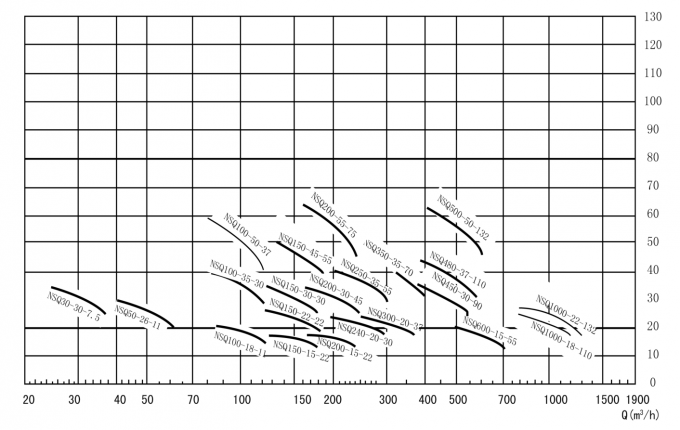 Performance Testing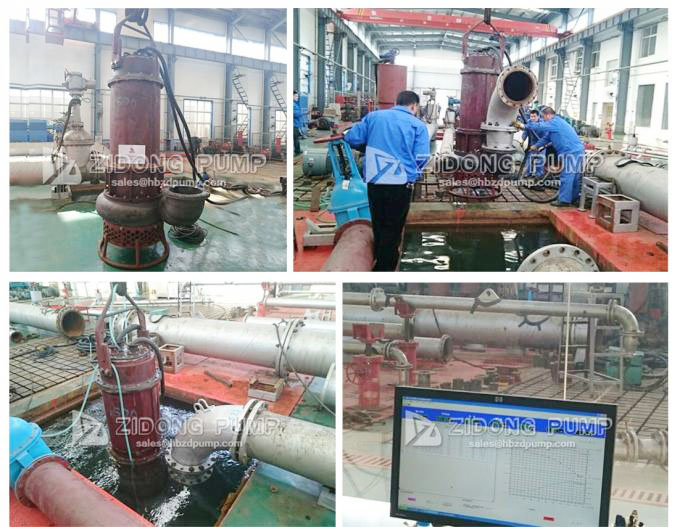 Application
•  Rivers, lakes, sea, reservoirs, pumping sand.
•  Rivers, lakes, reservoirs, pumping port dredging silt.
•  Pumping sand beneficiation: Select iron sand pumping, pumping sand gold, rare earths.
•  Sewage treatment plant settling ponds cleanup.
•  Municipal pipelines, storm water pumping station, hydroelectric sediment cleanup.
•  Construction (sinking bridge construction, etc.) discharge of sediment, mud.
•  Steel plant blast furnace slag, slag, pumping iron oxide delivery.
•  Concentrator tailings, slag, slurry transportation.
•  Coal cinder, coal, coal slurry cleanup.
•  Power plant fly ash, coal, coal slurry transportation.
•  To learn all kinds of diamond sand, quartz sand, slag solid particles.