ZIDONG ZP/ZPR heavy duty cantilever sump pump is designed for applications requiring greater reliability and durability than conventional vertical process pumps can offer. The heavy duty cantilever design makes the ZIDONG ZP/ZPR sump pump ideally suited for heavy continuous handling of abrasive and corrosive liquids and slurries whilst submerged in sumps or pits.


Features
● Wetted components are available in A05 high chrome alloys and elastomers (rubber);
● Anti-wear, anti-corrosion, which let the pumps service more longer;
● No need the lower submerged bearings, so no submerged bearing failures;
● The vertical cantilever design requires no shaft seal;
● No priming required;
● The screened inlets and large impeller passages reduce the risk of blockages
● Interchangeable wearing parts with the majority of other slurry pump brands.


Structure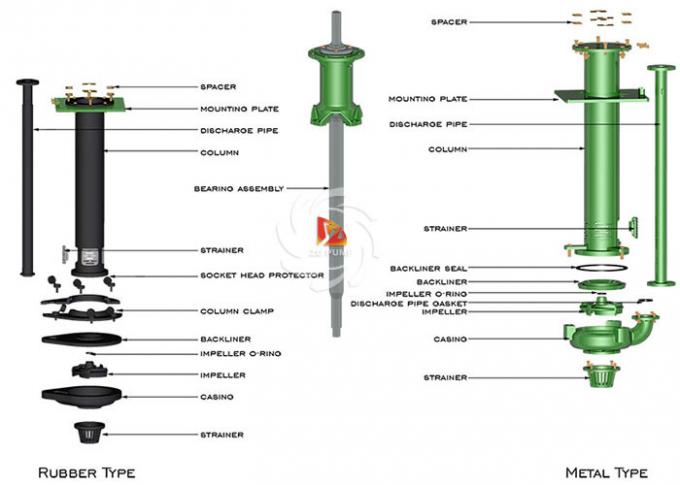 ZP(R) Performance Table
ZP/ ZPR CLEAR WATER PERFORMANCE
MODEL
MAX.
POWER (KW)
MATERIAL
Q CAPACITY
HEAD
H(m)
SPEED
n(r/min)
MAX.
Eff
η%
LINER
IMPEL
(m 3 /h)
(I/S)
ZP-40PV
15
M
M or RU
19.44~43.2
5.4~12
4.5~28.5
1000~2200
40
ZPR-40PV
15
RU
RU
17.28~39.6
4.8~11
4~26
1000~2200
40
ZP-65QV
30
M
RU
23.4~111
6.5~30.8
5~29.5
700~1500
50
ZP-65QV
30
M
M
19.8~93.06
5.5~25.85
5~29.5
700~1500
40
ZP-65QV
30
M
M
23.4~87.12
6.75~24.2
5.5~31.5
700~1500
58
ZPR-65QV
30
RU
RU
22.5~105
6.25~29.15
5.5~31.5
700~1500
51
ZP-65QV
30
M
M
18.9~89.1
5.25~24.75
5~28
700~1500
35
ZP-100RV
75
M
RU
56.7~221.76
15.75~61.9
4.5~34.5
500~1200
56
ZP-100RV
75
RU
RU
64.8~285
18~79.2
7.5~36
600~1200
62
ZPR100RV
75
M
M
54~289
15~80.3
5~35
500~1200
56
ZP-100RV
75
M
M
54~237.6
15~66
6~30
600~1200
40
ZP-150SV
110
M
RU
108~479.16
30~133.1
8.5~40
500~1000
52
ZP-200SV
110
M
M or RU
189~891
52.5~247.5
6.5~37
400~850
64
ZP-250TV
200
M
M or RU
261~1089
72.5~302.5
7.5~33.5
400~750
60
ZP-300TV
200
M
RU
288~1267
80~352
6.5~33
350~700
50
Applications
● Minerals processing
● Coal preparation
● Chemical processing
● Effluent handling
● Sand and gravel
● Abrasive and/or corrosive slurries
● Large particle sizes
● High density slurries
● Heavy duties demanding cantilever shafts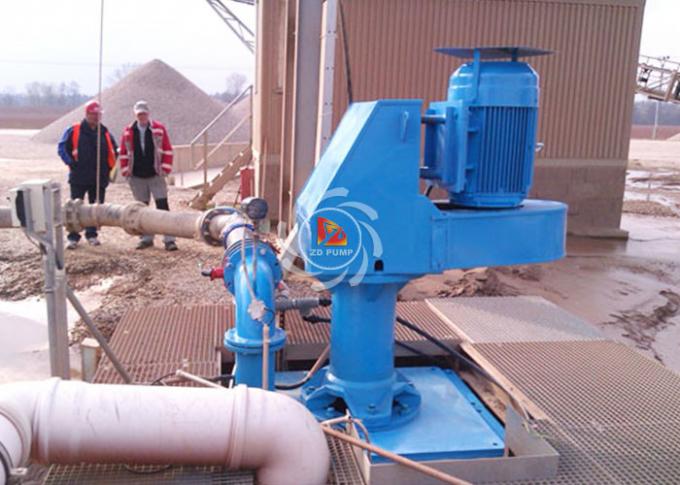 Photos For Shipping