Vertical Slurry Pumps are available in various standard lengths to suit common sump depths, for very deep sumps or where high shaft speeds limit the length of the pump, a suction extension pipe can be fitted to the bottom inlet to extend the depth of the pump by up to 2 meters. Pumping is maintained even when the top inlet is not submerged, thus enabling the level of liquid to be lowered right down to the bottom inlet or the bottom of any suction extension pipe.
Wet parts of type ZP pump are made of abrasion-resistant metal.
All parts of type ZPR pump immersed in liquid are lined with rubber outer liner. They are suited to transport no-edge angle abrasive slurry.

Features
Cantilevered Shaft
The standard ZP(R) pumps feature a cantilevered shaft which is up to 2400mm long. The cantilevered shaft means that there is no shaft sealing requirement and the drive end bearings do not come into contact with any pumped product. This reduces the risk of bearing failure and extends the wear life of the pumps.
Heavy Duty Wet End
Wet end components are manufactured from high quality 27% chrome white iron or rubber coated steel for exceptional wear resistance and service life with minimal corrosion. The heavy duty design can pump high density and abraisive slurries and the large passages of the impeller allows the transfer of large particles without blockages in a wide range of mining, processing and heavy industrial applications. Wet end stub shaft options are available to suit severe duty applications.
Column And Discharge Pipes
Column and discharge pipes are available in a range of materials to suit the requirements of operators. Standard options include mild steel and rubber lined mild steel. Composite options are available.
Versatile Drive Options
ZP(R) pumps can be directly driven using electric motors or belt driven with either set speed or variable speed operation.
Removable Strainers
ZP(R) pumps feature rubber or cast iron upper strainers and cast iron lower strainers to prevent blockages. The strainers are easily removed for servicing or replacement.
"L" Models Extended Shaft
The extended shaft "L" model features column bearings and shaft seal which further extends the pumping depth and enables the transfer of slurries from deeper sumps and pits.
Structure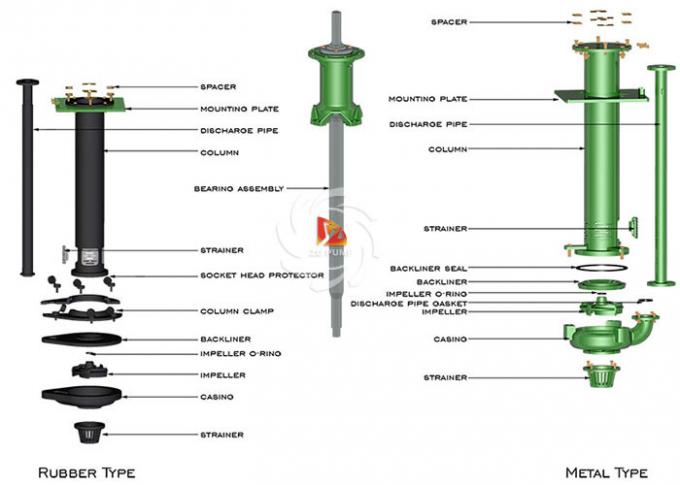 ZP(R) Performance Table
ZP/ ZPR Clear Water Performance
Model
Max.
Power(kw)
Material
Q Capacity
Head
H(m)
Speed
N(r/min)
Max.
Eff
η%
Liner
Impel
(m3/h)
(I/S)
ZP-40PV
15
M
M or RU
19.44~43.2
5.4~12
4.5~28.5
1000~2200
40
ZPR-40PV
15
RU
RU
17.28~39.6
4.8~11
4~26
1000~2200
40
ZP-65QV
30
M
RU
23.4~111
6.5~30.8
5~29.5
700~1500
50
ZP-65QV
30
M
M
19.8~93.06
5.5~25.85
5~29.5
700~1500
40
ZP-65QV
30
M
M
23.4~87.12
6.75~24.2
5.5~31.5
700~1500
58
ZPR-65QV
30
RU
RU
22.5~105
6.25~29.15
5.5~31.5
700~1500
51
ZP-65QV
30
M
M
18.9~89.1
5.25~24.75
5~28
700~1500
35
ZP-100RV
75
M
RU
56.7~221.76
15.75~61.9
4.5~34.5
500~1200
56
ZP-100RV
75
RU
RU
64.8~285
18~79.2
7.5~36
600~1200
62
ZPR100RV
75
M
M
54~289
15~80.3
5~35
500~1200
56
ZP-100RV
75
M
M
54~237.6
15~66
6~30
600~1200
40
ZP-150SV
110
M
RU
108~479.16
30~133.1
8.5~40
500~1000
52
ZP-200SV
110
M
M or RU
189~891
52.5~247.5
6.5~37
400~850
64
ZP-250TV
200
M
M or RU
261~1089
72.5~302.5
7.5~33.5
400~750
60
ZP-300TV
200
M
RU
288~1267
80~352
6.5~33
350~700
50
Applications
• Minerals processing
• Coal preparation
• Chemical processing
• Effluent handling
• Sand and gravel
• Abrasive and/or corrosive slurries
• Large particle sizes
• High density slurries
• Heavy duties demanding cantilever shafts
Photos For Shipping