Type ZG(H) pumps are of high-head ones.
ZGH series sand pumps have achieved extra high head for special working conditions. It is mainly used for long distance delivery with thicker wall in more durable working life and higher efficiency.
Overview
Zidong ZGH high pressure durable design coarse sand suction pumps are designed for continuously handling the most difficult higher abrasive slurrieswhich contain too big solids to be pumps by a common slurry pump.
Zidong Pump high pressure gravel pumps are designed for long life, efficient operation and ease of maintenance.
Gravel pumps have high-chrome wet ends with expeller or stuffing box seal arrangements.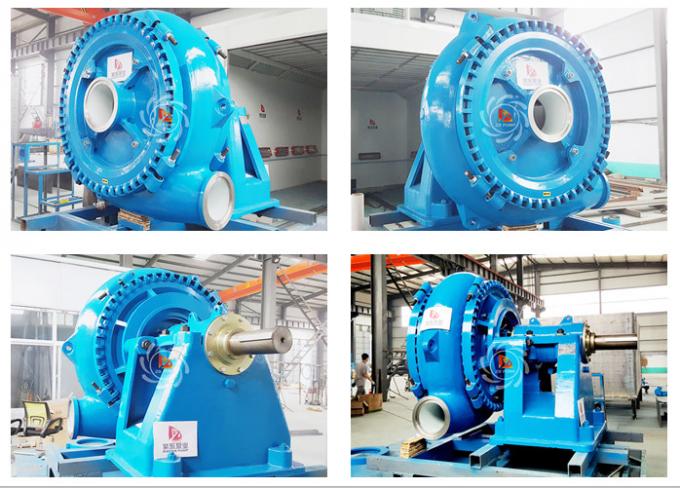 Features
• The shaft is designed with a short overhang to reduce shaft deflection and minimise vibration;
• Grease-purged piston rings to help seal contaminates out of bearing housing;
• Enclosed impellers to maximise efficiency;
• Pump-out vanes on both shrouds to minimise re-circulation and reduce stuffing box pressure;
• High chrome liquid ends, interchangeable hard metal impellers;
• Easy assembly and disassembly of liquid end;
• Minimal parts & simple design.
Structure
The pump body(casing & impeller) made of 27% high chrome alloy, the extra thick pump case let the pump anti-wear and need lowest maintenance cost.
| | |
| --- | --- |
| Parts Name | Materials |
| Throatbush | 27.5% High Chrome Alloy |
| Impeller | 27.5% High Chrome Alloy |
| Back Liner | 27.5% High Chrome Alloy |
| Volute | 27.5% High Chrome Alloy |
| Stuffing Box | HT200 |
| Door Clamp Plate | QT500-7 |
| Pump Base | QT500-7 |
| Bearing Assembly | SKF/Timken (Standard) |
| Belt Connection | 25# Steel |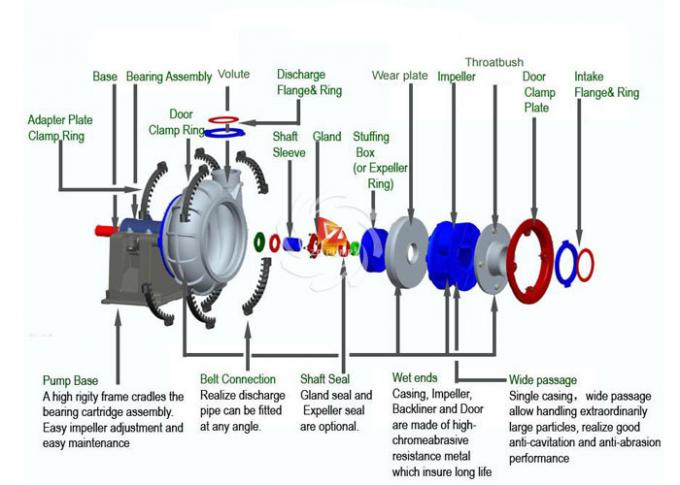 ZG(H) Sand Gravel Pumps Performance
Model
ZG Series Clear Water Performance
Max.
Power
(kw)
Capacity
(m3/h)
Head
(m)
Speed
(r/min)
Max.
Eff%
NPSH
(m)
Max Size Passage
(mm)
ZG-6×4D
60
36-250
3.5-51
600-1400
50
3.5
82
ZG-8×6E
120
180-540
10-48
800-1400
50
4.5
127
ZG-10×8F
260
180-820
13-50
500-1000
65
7.5
178
ZG-10×8S
560
180-820
13-50
500-1000
65
7.5
178
ZG-12×10G
600
360-1200
11-58
400-850
70
4.5
220
ZG-14×12G
600
500-3000
6-66
300-700
68
4.5
241
ZGH-10×8S
560
750-1300
18-80
500-950
68
7.5
180
ZGH-12×10G
600
1400-2700
28-78
350-700
72
8
210
ZG-16/14G
600
720-3600
18-45
300-500
70
3-9
230
ZGH-16×14TU
1200
700-3400
20-72
300-500
72
3-6
230
ZG-18×16TU
1200
700-4320
12-48
250-500
72
3-6
254
Applications
• Sand and gravel
• Hydraulic mining
• Sugar beet
• Root vegetables
• Slag granulation
• Tunneling
• River and pond dredging
• Heavy refuse removal
• Large particle or low NPSHA applications