Zidong ZH metal liner slurry pump is special designed for convey water and solid mixture medium. The ZH slurry pump is a single-stage, single-suction and horizontal heavy duty centrifugal slurry pump with a cantilever design.
Parts in contacting with the medium are made of latest wear-resistance 27% chrome alloy white iron with hardness 62HRC over, which has an excellent feature for maximum resistance to strong abrasive, coarse particle.
Designed for continuous conveying highly abrasive,high-hardness, high-concentration, low-corrosion slurry contain suspended solid particles, such as finished ores, refuse ores, ashes, cinders, cements, mud, mineral stones in the tailing mining,minerals recycling ,coal washing, industries of metallurgy, pulp and paper manufacture , power plant, building material,&chemical engineering, sand dredging etc.
Parts Structure
A centrifugal slurry pump is mainly composed of 3 parts:
1. The wetted parts (such as impeller, volute ,throatbush,FPL insert)
2. Shaft seal parts(such as gland packing seal, expeller seal or dynamic seal,etc.)
3. Bearing assembly parts,etc.
Bearing Assembly: A large diameter shaft with short overhang minimizes deflection and contributes to long bearing life.Only four through bolts are required to hold the cartridge type housing in the frame.
Drive Types: Such as V belt drive, gear reducer drive, fluid coupling drive, and frequency conversion drive devices.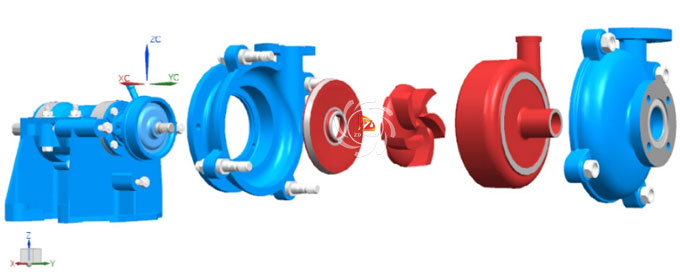 Pump Mainly Parts Material List
No
Part
Material
No
Part
Material
1
Shaft
High tense steel
12
Volute
27% Chrome alloy
–
Shaft sleeve
3Cr13
13
Discharge joint ring
Natural rubber
2
Clamp bolts
Zinc plated steel
14
Volute liner seal
Natural rubber
3
Base
Ductile iron
15
Intake joint ring
Natural rubber
4
Bolts,studs
Zinc plated steel
16
Expeller
27% Chrome alloy
–
Bearing body
Cast iron
17
Frame plate liner insert
27% Chrome alloy
5
Gland/Split gland
Cast iron
18
Throatbush
27% Chrome alloy
6
Frame plate
Ductile iron
19
Cover plate
Ductile iron
7
Expeller ring
27% Chrome alloy
20
Cotter
Cast iron
8
Expeller ring seal
Natural rubber
–
End cover
Color zinc plated
9
Volute liner seal
Natural rubber
–
Labyrinth cover
Color zinc plated
10
Impeller
27% Chrome alloy
–
Lantern ring
1Cr18Ni9TI
11
Cover plate bolt
Zinc plated steel
–
Bearing
Top brand
Features of Slurry Pump
• Cantilevered horizontal centrifugal slurry pump
• Double casing slurry pump
• Wear resistant metal wet end parts for coarse solids slurry with long service life and high efficiency
• Wide options of impellers of standard 5vanes,4vanes high efficiency and 2vanes non-clogging.
• Available with gland seal, centrifugal seal or mechanical seal
• Famous brand bearing components can improve reliability, prolong bearing life and reduce lubrication cost
• Grease lubrication
• Eight positions of discharge branch at intervals of 45 degree
• Drive types: Different connection methods (DC,CR,ZVZ,CV) with motor for selection ,satisfy the requirements on different installation condition and different capacity & head.
• Can be installed in multistage series
• Low cost of ownership
• The pump has variety of combinations of lining and impeller to adapt to different medium characteristic.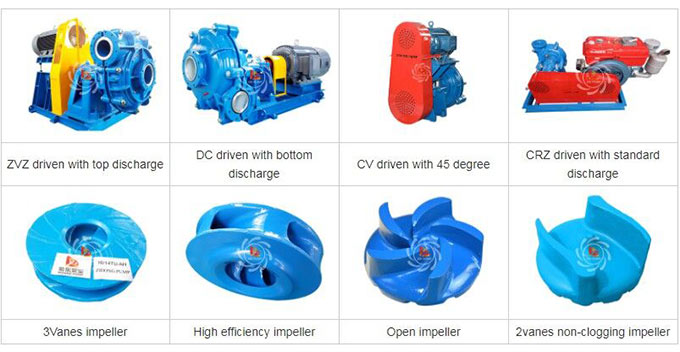 Performance Chart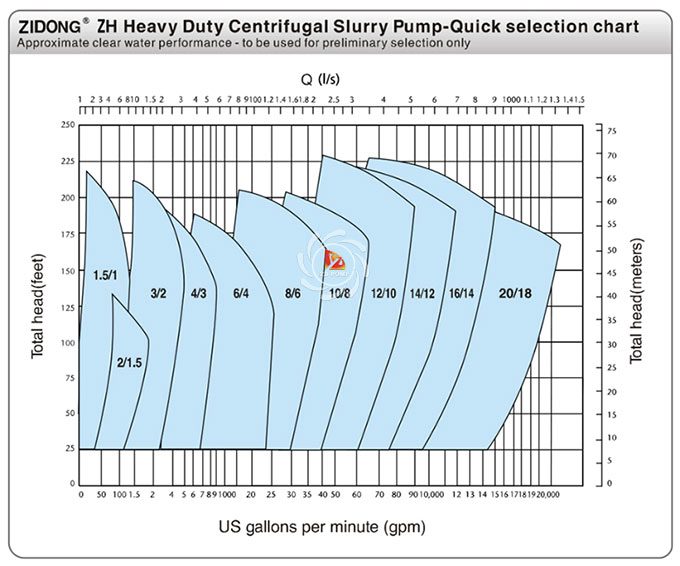 Specification Chart
Model
Max Power(kw)
Zh Series Clear Water Performance
Capacity
Head
Speed
Max. Eff η%
NPSH
(m3/h)
H(m)
n(r/min)
(m)
ZH-1.5×1B
15
12.6~28.8
6~68
1200~3800
40
2~4
ZH-2×1.5B
15
32.4~72
6~58
1200~3200
45
3.5~8
ZH-3×2C
30
39.6~86.4
12~64
1300~2700
55
4~6
ZH-4×3C
30
86.4~198
9~52
1000~2200
71
4~6
ZH-4×3D
60
ZH-6×4D
60
162~360
12~56
800~1550
65
5~8
ZH-6×4E
120
ZH-8×6E
120
360~828
10~61
500~1140
72
2~9
ZH-10×8ST
560
612~1368
11~61
400~850
71
4~10
ZH-12×10ST
560
936~1980
7~68
300~800
82
6
ZH-14×12ST
560
1260~2772
13~63
300~600
77
3~10
ZH-16×14ST
560
1368~3060
11~63
250~550
79
4~10
ZH-16×14TU
1200
ZH-18×16ST
560
2160~5040
8~66
200~500
80
4.5~9
ZH-18×16TU
1200
ZH-20×18TU
1200
2520~5400
13~57
200~400
85
5~10
Typical Applications
The ZH series centrifugal horizontal slurry Pump is the pump for highly abrasive/density slurries in processes from cyclone feed to regrind, mill discharge, flotation, mine drainage and tailing in minerals plants plus other industrial applications, Sometimes, it could also be used in dredging of settling lagoons and pumping of drilling mud etc.
• Mining
• Mineral processing
• Construction
• Chemical and Fertilization
• Power generation
• Phosphate matrix fertilization
• Pulp and paper
• Waste sludge
• Paper mill wastes and liquors
• Precipitated CaCO3
• Plaster
• Bottom/fly ash, lime grinding
• Dirty water
• Pulp and paper
• Oil and gas
• Waste water treatment
• Ball mill discharge
• Rod mill discharge
• SAG mill discharge
• Fine tailing
• Flotation
• Heavy media process
• Minerals concentrate
• Mineral sands
• Coal-washing plant
• Coarse sand
• Coarse tailing
• Dredging
• FGD
• Wet crushers applications
• Wet scrubber systems
• Process chemical
• Iron and Steel
• Ni acid slurry
• Fracking slurries
• Clay and sand slurries
• Kaolin clay
• Carbon slurry
• Lime mud
• Oil sands
• Phosphoric acid