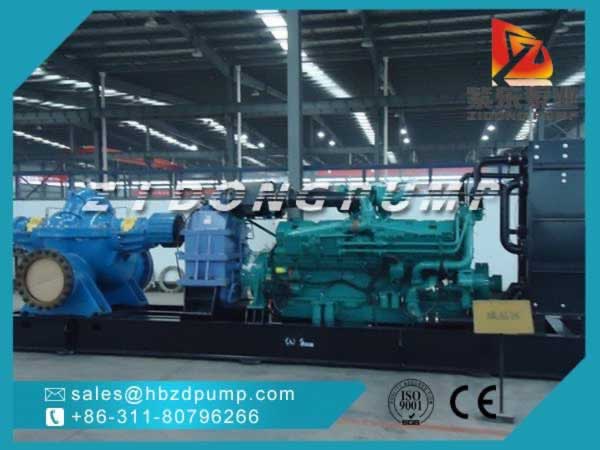 SLOW split case pump overview
SLOW series single-stage double suction split volute centrifugal pump is produced by our company based on importing the advanced technology from Germany in accordance with the market demand. By using the original and modified impeller and cutting, the pump boasts a full and wide range of spectrum and high service efficiency. The water pump can provide the working points of any flow and lift head required by the user within the spectrum performance range. TPOW pump adopts a hydraulic model with the self balancing axial force and radial force,which is the best both at home and abroad currently.It boasts stable performance ,high efficiency, compact structure,small vibration ,strong resistance to pressure of pump body and being easy for installation and maintenance.
SLOW split case pump features
1) Compact structure ,space effective and much shorter axial dimensions.
2) Small vibration and low noise, achieved mainly by means of the follow:
A.The pump casing adopts the double-volute structure.
B.The rotor part has short axial dimensions and a good rigidity.
C.The pump shaft adopts the imported high-precision bearing for the support.
SLOW split case pump application
This series of product is widely used for water plant,irrigation,drainage pumping station,power station,water circulation of air conditioning,industrial water supply system,fire system and shipping industry as well as for the general purpose in the oil refining industry.
SLOW split case pump model meaning
EX:500S-35A
500:Inlet diameter(mm)
S:Single stange double suction
35:Design head(m)
A: Cutted impeller