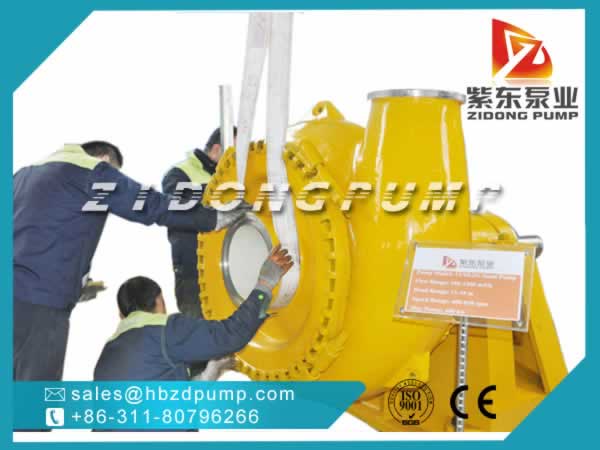 Sand gravel dredging pump overview
Type ZG(or ZGH)sand / gravel pumps are the series products introduced from international technical.These pumps are designed for continously handling the most difficult higher abrasive slurries which contain too big soids to be pumpes by a common pump.They are suitable for delivering slurries in Mining,Explosive-sludge in metal melting,Dredging in dredger and course of rivers,and other fieldas.Type ZGHpumps are of high-head ones.Construction of this pump is of single casing connected by means of clamp bands and wide wet-passage.The wet-parts are made of Ni-hard and high chromium abrasion-resistance alloys.The discharge direction of pump can be oriented in any direction of 360°.This type of pump possesses the advantages of easy installation and operation.good performance of NPSH and abrasion resitance.
Sand gravel dredging pump features
1. 100% interchangeable pump with same technique and dimensions.
2.All the wet/flow parts are made of wear resistant high chrome alloy material.They are suitable for delivering slurry in mining, metal melting, dredging, river dredging,
3. Closed impeller and wide wet passage, so gravel pump has high efficiency.
4. Single casing structure and thick pump body make pump performance better.
Sand gravel dredging pump structure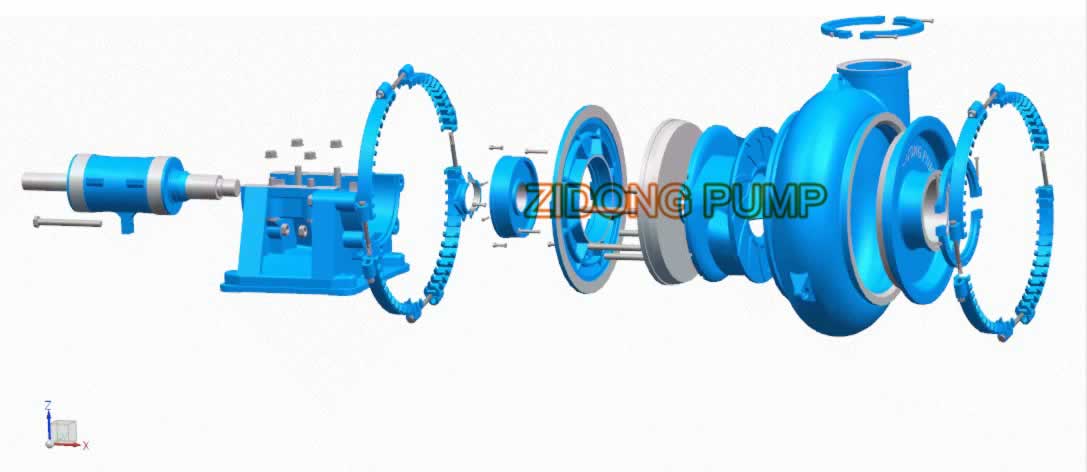 Sand gravel dredging pump parameter
Ex: 6/4D-ZG(or ZGH)
6: Suction diameter(inch)
4: Discharge diameter(inch)
D: Bracket form
Z: Zidong brand
GH: High-head of gravel pump
Model
Power
ZG Series Clean Water Performance
Flow
Head
Speed
Effi
NPSH
Max Particles
(KW)
(m3/h)
(m)
n(r/min)
(%)
(m)
(mm)
ZG-6×4D
60
36-250
3.5-51
600-1400
50
3.5
82
ZG-8×6E
120
180-540
10-48
800-1400
50
4.5
127
ZG-10×8F
260
180-820
13-50
500-1000
65
7.5
178
ZG-10×8S
560
180-820
13-50
500-1000
65
7.5
178
ZG-12×10G
600
360-1200
11-58
400-850
70
4.5
220
ZG-14×12G
600
500-3000
6-66
300-700
68
4.5
241
ZGH-10×8S
560
750-1300
18-80
500-950
68
7.5
180
ZGH-12×10G
600
1400-2700
28-78
350-700
72
8
210
ZGH-16×14TU
1200
700-3400
20-72
300-500
72
8
230